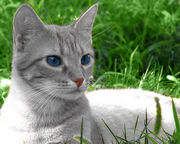 Ash is a pale gray tabby tom with icy blue eyes.
Appearance
Edit
Heartbroken
Edit
He is seen to be padding out of camp with Mira. Later, he is seen hissing at Mirla not to call him Ash.
Next chapter, he is recalling his memories of killing Dodge, appointing Rage as new leader, and receiving a dog tooth as a trophy of killing over 100 cats.